The concept of the conservation area was introduced in the Civic Amenities Act 1967 sponsored by Duncan Sandys. It was a pioneering measure, the first piece of legislation to acknowledge the value of whole groups of buildings and to recognise the importance of conserving the character of entire areas. By the end of 1967, the first four conservation areas had been designated.

Today there are more than 9, 300 - eloquent testimony of their importance to the quality of life in modern Britain
.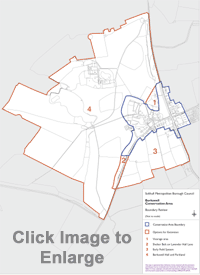 Parish Council funding enabled a review of the Conservation Area to be undertaken in 2010. The review engaged residents in deciding how the original 1968 Conservation Area designation served current and future needs. The Council employed a specialist to turn community thoughts into a meaningful plan which has now been adopted by SMBC.

The result is a huge extension to the Conservation Area incorporating the historically important small field system to the south of Lavender Hall Lane, and the equally important grand landscape surrounding Berkswell Hall. The community now has to develop a management plan for the area to ensure it is conserved and enhanced in the way we all desire.
The original Berkswell conservation area was designated in November 1968. The boundary of this conservation area remained unaltered since designation until 2012 (see map below).

The focus of the conservation area is centred on Church Lane although it extends along part of Lavender Hall Lane and radiates out from the intersection with Meriden Road, Coventry Road and Spencer's Lane.

The Berkswell conservation area covers an area of approximately 12.4 hectares. There are 21 listed buildings and 1 scheduled ancient monument in the conservation area. All of the buildings are listed grade II with the exception of the Church, which is listed grade I.